Seb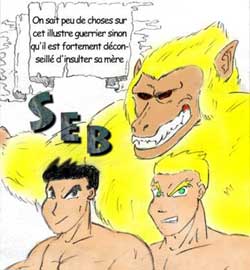 Sebastien is Rachid's friend. For this reason, he possess quite a power. His transformations are Rachid's.
But he is always 3 transformations late on Rachid.

Translation of the note on the picture: "We don't know lot's of things on him, except that you must never insult his mother."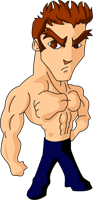 Fighter Mode
When he wants to fight, Seb changes into this appearance and the mere drawer becomes a powerful fighter!!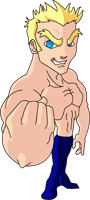 Super Sayen 1
Seb is Chid's friend so his transformations are the same as his.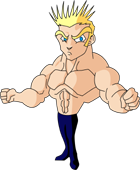 Super Sayen 2
After some training, Seb finally achieves SS2.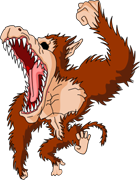 Giant Ape
The only thing he owns is this Giant Ape transformation, which gives him a power with no equivalent. Until now, Giant Ape Seb is undefeated...

Super Giant Ape
When in this transformation, Seb is not really stronger than in regular Giant Ape, but he goes berserk and attacks everything.